Incredbank: Expense control system
Reference from Incredbank
We have been working with Gramant since October, 2007. During this time Gramant proved itself to be the reliable partner in software development. Our bank had been in need of efficient expense control system, available remotely and which wouldn't require major maintenance. Our analysts worked together with Gramant's analysts to produce functional requirements, and Gramant's development team built the system in quite a short time.
Implementation of this system allowed us to manage and coordinate expense control processes and lower the overhead of these processes in the bank.
Vasiliy Nikitin, Deputy Chairman of Incredbank
Project description
The Bank Expense Control system is intended for operational budget planning and expense control. It supports purchase request approvals according with an organizational workflow. It also provides instant access to planned/actuals budget reports, grouping expenses by budget period, cost centers and expense categories.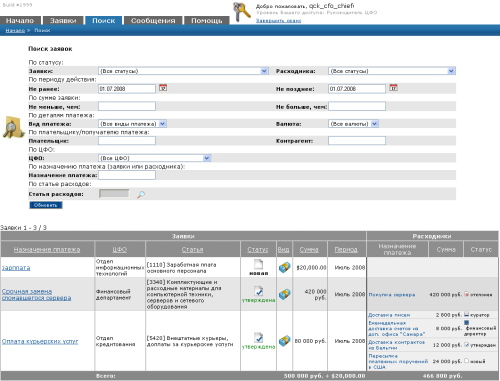 Core Features:
Purchase request approval according to organizational workflow
Flexible role-based access control management
Support of distributed branch network management
Reporting component can group expenses by budget period, cost centers and expense categories
Sophisticated search of purchase requests; export of search results into Excel
Can attach scanned invoices and other documents
Embedded instant messaging system
Support of different currencies, cash operations and bank orders
Modern security technologies including strong authentication with security tokens
Technologies
Platform — Java
DBMS — Microsoft SQL Server
OS — Windows Server
Authentication server — CRYPTO-Server